Follow these five steps and you will be on your way to doing off-leash dog play right.  Keep reading to get your free download on "What Makes a Great Off-Leash Playgroup" to ensure you create a safe dog daycare.
We are continually surprised by operating decisions of off-leash dog play providers.  The majority of providers have good intentions of providing great care of the dogs, however, the decisions made definitely put dogs at risk.  There is no substitution for learning and knowing dogs when you make the decision to offer off-leash play as a professional service.
Follow these five steps and you will be on your way to doing off-leash dog play right.
Step 1 – Safety and well-being of the dogs must be the top priority when making operational decisions.  The industry has focused on physical safety of the dogs, but to us equally important is a focus on the emotional well-being of the dogs during social play.  Dogs that attend playgroup should be leaving behaviorally and emotionally better than when they arrived and definitely not worse.  Your facility design and operating policies and procedures must be established with the top priority of keeping dogs physically safe and emotionally well.
Step 2 – Know dogs before you start offering off-leash play services as a business.  As owner you should have a background in dog behavior or study to gain this knowledge prior to opening.  When you provide off-leash play services a love of dogs and experience with your own pets is not enough.  You need to understand dog language, multiple breed tendencies, stress signals, warning displays and play behaviors.  Today there are multiple resources available to get this knowledge and background prior to going into the business of providing off-leash dog play services.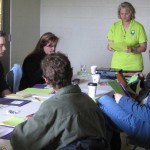 Step 3 – Teach the staff you hire about dogs and professional pet care.  The quality of off-leash play services is only as good as the leader supervising the playgroup.  Be prepared to make an ongoing investment in staff training to do off-leash play right.  Each staff member supervising dogs needs to be trained in the same topics outlined in step 2.
Step 4 – Educate dog owners on their dog's behavior and steps it takes to do off-leash play right.  Share with them the training you and your staff have made in knowing dogs.  Point out the key aspects of your operations that keep dogs physically safe and emotionally well.  This may include your initial dog evaluation process, policy for dogs to play naked, policy that dogs attending play are always on probation, policy for formal nap times and formal incident reports for inappropriate play behaviors.  Honestly sharing information on each dog's behavior, fit to the environment and enjoyment of off-leash play is an important aspect of owner education.
Step 5 – Keep play fun!  The dogs in playgroups tell you when they are having fun and enjoying the play sessions.  It's important that social play is fun for every dog in the group so spend time just observing the body language of each dog.  You want to see relaxed and neutral body postures with minimal stress signals and instances of over-arousal.  It's important to have activities, toys, games and engagement with the dogs during the session.  Dogs that enjoy the social environment will take natural breaks from play and rest.  Your staff should enjoy shifts with the dogs so you will observe engagement and interactions without yelling and frequent correction of dog behaviors when play is fun.
Off-leash dog play is a great social experience for dogs when it is done right.   Check our our free download on "What Makes a Great Off Leash Playgroup"