Four E's of Excellence Registration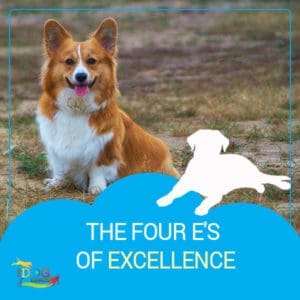 Course Description
The quality of your off-leash play operations requires sound policies and procedures in the four key areas of Environment, Evaluating Dogs, Education and Excellent Operations. Spend six weeks going through the Four E's of Excellence free member gift with The Dog Gurus, Robin Bennett & Susan Briggs.
New operators and seasoned veterans can learn the key policies and procedures that The Dog Gurus have observed result in excellent off-leash play operations…play that is safe and fun for the dogs!
The Four E's Course was designed to take you step-by-step through all four sections of the ebook in a flexible online self-study format. Once you complete the course you will:
Identify steps required to move your center operations to the next level in each section
Create an action plan of policy and procedure changes to improve your operations
Gain confidence in knowing what it takes to be an Excellent off-leash play provider
Get the information you really need to understand the "why's" behind the content in each section
Market your center as an off-leash environment that exceeds industry minimum care standards and invests in professional education to achieve Excellence!
Audience: This course is best for operators that are serious about off-leash play safety, recognize there is always room for improvement and are willing to invest time to be the industry's best. We welcome existing owners and managers that seek opportunities to improve current operations or new owners wanting to get started with sound policies and procedures. Completing this course plus the custom "to do list" you'll create will set your off-leash play program up to achieve a designation of Excellence!