As part of our 2nd Anniversary of The Dog Gurus membership, we wanted to highlight a couple of our charter members. Charter members were facilities who joined The Dog Gurus as soon as we launched and have been with us ever since. We are thankful for their support and hope they have loved being a member as much as we love having them! For this post, we interviewed Lori Campell from Camp K9 Pet Care in Madison, Wisconsin.
TDG: Provide a brief overview of your company (when you started it, services offered, what is your facility like)
Lori: We started Camp K9 in 1975. This year we are celebrating our 30th Anniversary! It's so hard to believe that we have been in this amazing business for this long. We have a perfect location – close to town but far enough out to have 10 beautiful acres which allows us to offer huge play yards for our guests to enjoy the fresh air and have a lot of room to run and play. We started Camp K9 as my hobby, because of my love of dogs, but 30 years later we have grown to 22 employees and now have 3 separate buildings offering various styles of rooms for overnight stays. From our Bed and Biscuit Suites to our Classic rooms, we offer a variety of rooms to suit all of our guests needs and wants. Our overnight lodging has a total of 90 rooms for dogs and 12 rooms for our kitty friends.
We were one of the first facilities in this area to add day care services in 1996. It's become so popular that we've recently added on a second building for our Day Camp guests, plus 30,000 sq. feet of turfed play yards. Today we have 80 daycare dogs visit us every day, Monday thru Friday. We plan lots of activities for the dogs during the day, plus we love to do lots of puppy parties with pictures, games, food and fun!
We love to keep investing back into our business, learning new ways to do things and constantly improving on what we do plus we seem to be continually doing updates to our facility. Our most recent update is remodeling our Bed and Biscuit suites for our overnight guests. We love what we do and we're so glad to be able to provide excellent care to our furry guests.
View of our Daycamp entrance: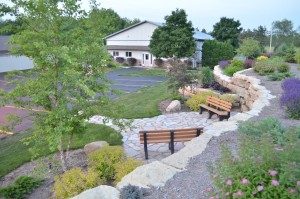 TDG: Why did you get started in the pet industry?
Lori: It started with my passion for dogs, which I had for as far back as I can remember. When I was fairly young, I remember daydreaming about how to create this amazing place to take care of dogs so that I could surround myself with dogs, because I felt happy when dogs were around me. Little did I know this dream would become a reality.
TDG: What do you find most rewarding about working in the pet industry?
Lori: Being around the pets…Providing good, fun and safe care to all pets. Second, giving customers a place they feel confident about leaving their pets…and then getting feedback about how thankful they are that we are here and how much they love us! Makes all the hard work worth it.
Views of Boarding entrance:
TDG: What does being a member of The Dog Gurus mean to you?
Lori: We joined the Dog Gurus as soon as they offered membership. I was excited to be able to have a great resource to give and get ideas. Well, after two years this membership has more then exceeded my expectations. The material that The Dog Guru's offers is priceless. Really. They have helped me with so many ideas and details for our business, I can't even list them all. When we were hiring new staff – they conveniently had a whole handout with examples and ideas of how to create a job description, where to post it and how to implement interviews. Their video training program has been an amazing asset with training our staff on dog body language and has taken us to a whole new level of training staff. Their monthly topics are always informative and filled with so many new ideas and learning opportunities. They supply pet care business owners with everything they need to help run their business successfully. I don't think they charge enough for all of the information they share…but don't tell them that! : )
TDG: What is the thing you are most proud of for your company?
Lori: Showing my love of Christ thru being honest and trustworthy and compassionate and modeling that love to our staff and customers. I hope it's reflected by the way our customers trust us and how long our staff stays with us. I hope they feel they are being treated kind and fair.
TDG: What does your staff do together for fun?
Lori: Our motto is to have FUN every day on the job…Plus, we have a yearly employee appreciation party complete with a scavenger hunt for prizes and ending with a dinner at a nearby restaurant. We'll try to do other small get-togethers now and then to just relax and have fun outside the work environment. We encourage our staff to turn in "spot on" cards, thanking another staff for doing something nice, or special for them. In turn, we give that staff person who was thanked a small gift of appreciation.
TDG: Do you have a client or dog who changed the way you run your business?
Lori: If there was a specific dog, I would have to say it was Hershey…one of our very first campers from a long time ago. Hershey came to us for boarding and was terrified of most everything. Hershey became my challenge. I worked a long time with her to get her to trust me. It took several visits, but Hershey became one of the best boarding dogs we had. She eventually started to enjoy visiting us. This type of dog, who is just afraid of the world (but needs to be boarded)…has been my challenge, and now is my challenge to my staff. We spend extra time with those pets who are having a hard time adjusting and we work on gaining their trust. We have had much success in "turning" dogs around. Of course, there are some dogs that just aren't a good fit for boarding and it's better for them that they have alternative care. For many nervous pets we have helped them make a transition to actually enjoying overnight stays with us. We still get customers calling who mention how their dog does so much better with us. I credit that to Hershey, who taught me that some dogs need an extra dose of TLC. We love spending that extra time with them so when they come back they're excited for their next camping experience!
TDG: If you could meet anyone in the industry, who would it be and why?
Lori: I already met one of the people I've wanted to meet in the industry…Robin Bennett. I am in awe of what she and Susan bring to this industry and the information they share monthly to help make the dog daycare industry what it should be. I would love to meet Susan too!
And Cesar Milan would be pretty cool to meet. I realize there are many people that don't care for his method of training, but I went to a "show" he did a few years ago, and his energy with the dogs was truly amazing to see – I almost felt like he was half dog/half human – the way he communicated with the dog's on stage that he had never met before. I could see the dog change right in front of my eyes as soon as he took a hold of the leash. His energy with those dogs was amazing to watch.
TDG: Anything else you would like to add?
Lori: I feel so blessed to be able to do something I love every day! It's a fun job, it's a hard job, but it's a rewarding job.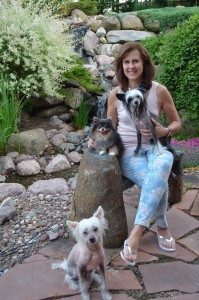 Daycamp Aerial Views: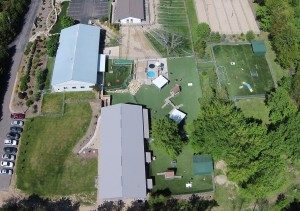 Dog Play Yard and Parties: