Budget Planning Tools
Pet Business Owners – new & veteran, are . you…
Tired of financial uncertainty?
Ready to increase your pay?
Short of cash in your business?
We want to help you increase your paycheck and have confidence in your financial future. We have two budget packages for you to select from.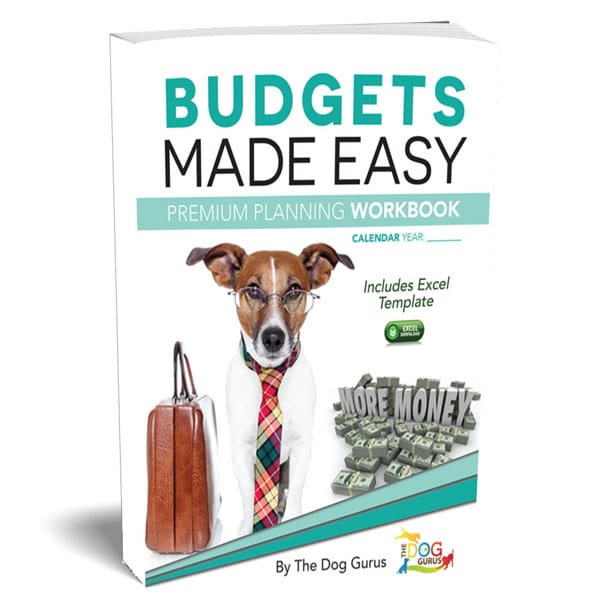 Premium Budget Planning Workbook
The Dog Guru's Budgets Made Easy Premium Planning tool is a step-by-step guide to creating a budget for your business. This product is perfect for pet business owners that are comfortable with numbers and using excel. The PDF workbook guides you with an interview style questionnaire to make key decisions for your business and then incorporate them into your budget. Our tool is unique in including a cash flow plan worksheet so you will know immediately any months that are planned "in the red". Budget calculations are done for you in our easy to use excel template that makes it fast and easy to try out new scenarios like raising rates or unit growth plans.
Update and use every year to proactively manage your finances. Included in this package are:
Premium Budget Workbook PDF
Budgeting Excel Template
Click here to view a sample.
$134.95
Budgets Made Easy Implementation Toolkit
The Budgets Made Easy Implementation Toolkit really is the complete package customized for pet businesses and perfect for pet business owners that want more guidance on completing the budget steps. It's also great for anyone that uses Quickbooks for financials and budgeting as the enhanced template converts your chart of accounts into our budget categories. The complete toolkit includes:
Premium Budget Workbook PDF
Enhanced Budgeting Excel Budget Template (easier transfer of your data from and to Quickbooks)
Tips on Using the Enhanced Template PDF
Checklist to Prepare, Create and Implement Your Budget
Four Preparation and Planning Videos Guide You to Complete the Planning Workbook
Five Budget Creation Videos Guide You to Complete the Excel Template
You'll be guided step-by-step in the preparation, planning and budget creation process. Susan knows how to make an overwhelming budget process doable in logical steps and guides you through each one. Our video guides and industry specific tools make it easy for you to get a budget done in 60 days!
Over $1,000 in value for only $299!
$299.00