Offer a Tricks for Fun Class taught by Certified Professional Dog Trainer, Robin Bennett, CPDT-KA
Let us help you
We provide the Learning, You provide the students
To help pet care facilities offer online education to their clients, we have put together this online "Dog Tricks for Fun" training class. This allows YOU to sell the class to your pet parents, generate revenue during this COVID-19 pandemic, and we take on all the work!
We Want To Help
We realize the pet industry is currently in a crisis. COVID-19 is preventing any travel so lodging reservations have dried up, and some people are afraid to leave their homes (or are quarantined and can't leave their homes). So we wanted to help you with an idea to generate more revenue from the pet parents who would normally be at your facility.
We've compiled videos teaching over 15 different tricks which you can sell to your clients. The normal value of this course (and the value we would recommend using when you sell it to your clients) is $99.
Send The Dog Gurus the name and email of each student and we will put them on our Learning Management System, give them one years access to the course. You pay only $25 per students to The Dog Gurus just so we can cover our customer support and LMS cost. That's a profit to you of $74 per student and you have very little work to do!
So let's do this together!
Just purchase as many seats as you need after your clients have paid you.
Due to the unique nature of this offer, no refunds after purchase…so be sure to get your money first!
What Do Your Clients Get

With Their Online Course?

A full year access to an online tricks course with tricks taught by Robin Bennett, CPDT-KA (a certified professional dog trainer).

All tricks taught using positive methods

Customer support provided by The Dog Gurus Customer Care Team while they are enrolled on our LMS

Online access to 35 short video tutorials covering over 15 different behaviors including:
The basics (sit, down, name game, stay)
Kennel up
Shake
Spin
Roll over/play dead
Go to mat
Platform training
Leave it
Drop it
Peekaboo
Muffin tin game
Ring the bell
Back up
Weave between legs
Say your prayers
Jump through arms
Need help with your marketing?
Two done for your emails to send to your clients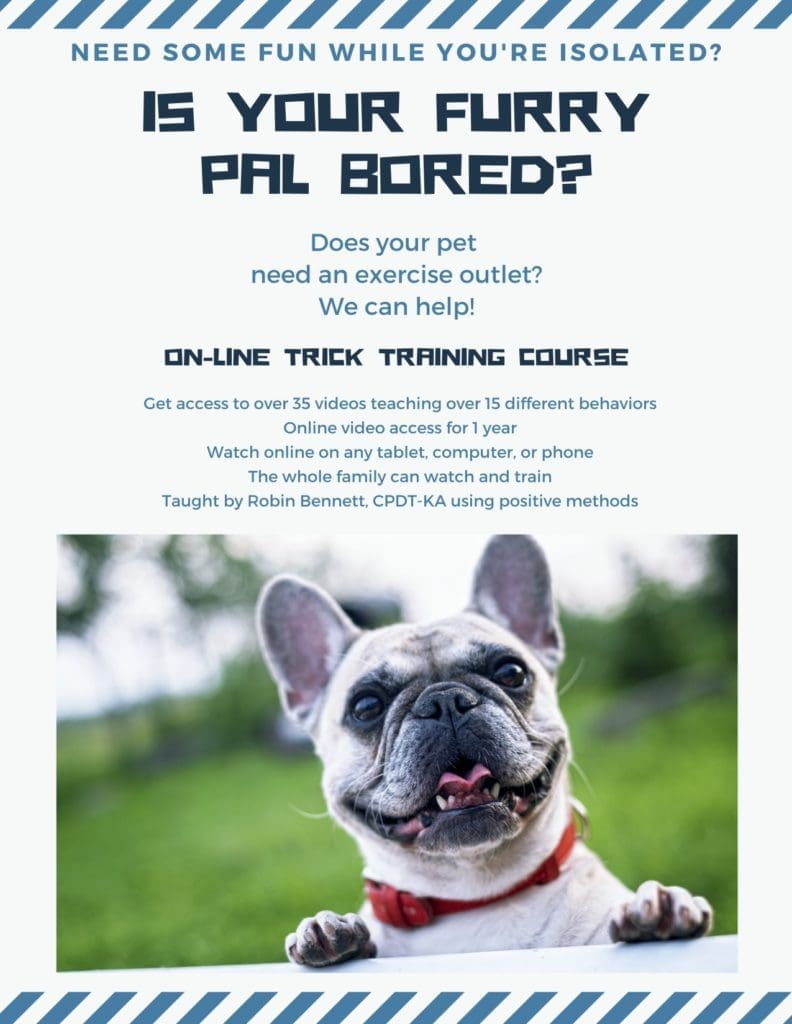 Due to the unique nature of this offer, no refunds after purchase…so be sure to get your money first!
Frequently Asked Questions
How Much Does it Cost?
This course is only $25 per student payable to The Dog Gurus to cover the cost of our customer support and use of our LMS. But you can charge whatever you want. The retail value of the course is $99 per student, but if you want to sell it for more or less, you are welcome to do that. You keep whatever you make over the $25 you are providing to The Dog Gurus.
How Should I Market This?
You can sell this anyway you want. Via email, social media, phone calls, texts etc. Use them all to contact your pet parents. We have also created two done-for-you emails to get your started and have a pre-made flyer you are welcome to use.
How Does it Work?
Once you receive payment from a pet parent, you can log on and purchase as many courses as you need. Then send us an email with the name and email of the pet parent. That's it. We will take it from there to get the client on our Learning Management System and give them access to the course.
How Long is This Offer Available?
We created this offer as a way to help pet care facilities during COVID-19. We aren't sure how long it will be offered once the pandemic is over. However, anyone you enroll will have access to the course for one year from their start date.